WOLF Architects are award winning luxury home architects in Brisbane, Gold Coast, and Sunshine Coast with accredited architects, interior designers, stylists and drafting specialists experienced in designing luxury homes customised to your unique lifestyle. We are committed to creating inspirational, innovative and sustainable luxury residential architecture in Queensland.
When you are looking for an architect for your new luxury home, WOLF architects has the experience to design a state of the art and completely bespoke home for you, uniquely crafted to suit your lifestyle needs even as they change.
Queensland has a beautiful but sometimes intense climate, and we understand that you need architecture that works with the environment and makes the most of the natural setting. Your home should be able to adapt to suit your lifestyle throughout the extremes of the seasons.
Whilst we strive to create architecturally unique homes we never forget that this is the place where you will live, so we always focus on the small details that make day to day living easier for you.
From WOLF Architects you will get personalised architectural services from a premier team of Queensland architects who specialise in residential architecture to build the home that you have always dreamed of owning. Wolf Architects will listen to your needs and create the home that you want, keeping you updated and informed throughout the whole process.
WOLF Architects has the knowledge and experience to provide you with the architectural services to design your home from concept to completion. We are premier Gold Coast, Sunshine Coast and Brisbane architects.
Find out more about WOLF Architects or view our portfolios for inspiration.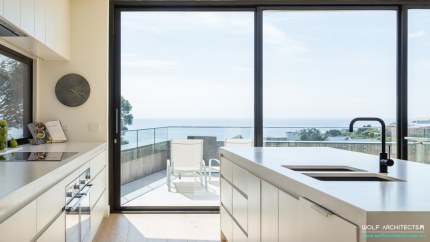 The 5 WOLF Points of difference:
Frequently Asked Questions
What do Architects actually do and why use an Architect?
Taras Wolf
2018-04-10T18:32:21+00:00
Architects are the specialists of the building design world. Unfortunately, the use of architects in Australia is often seen as an expensive luxury when, really, it is an investment in our largest assets, our homes or places of work! Architects have been unfairly compared to draftsmen or building designers, which has led to misunderstandings regarding fees. There is no true comparison that can be drawn between them due to the differing qualifications and skills.
specifically:
Architects understand the true meaning of customisation. Providing three options as with many design and construct companies, is not a customised service. It is a menu and does not allow for true creativity.
Architects please both heart and eye, but never at the expense of function.
Architects respond to the site, location, and surrounds with sensitivity. Display homes on irregular blocks or sloping sites cannot respond to their context.
A registered architect has experience that enables consideration of budget restrictions, timely results, and foresight, preventing costly mistakes. While the difference between an architect and less qualified designer may be $50,000 (for example), it only takes a small mistake to blow the budget by $100,000.
Architects appreciate regulations, codes, and diplomacy with regards to local councils. A project that moves through town planning quickly saves valuable time and money.
Architects offer energy efficient and sustainable results as they are mindful of how buildings affect and respond to the environment. They are often at the forefront of new technologies and approaches towards energy efficiency.
Being able to claim a home is architecturally designed is a marketing strategy commonly employed and on inspection visitors will note the enhanced quality.
Residential Design Portfolio