At WOLF ARCHITECTS, we believe contemporary architecture should respect its context while still making a statement. WOLF designed commercial and residential buildings provide a refuge from the stressful world around by harnessing a strong connection with the outdoors and embracing nature's ability to inspire. To maintain our reputation as one of the best and most reliable architects in Melbourne, it is imperative that we understand our clients' dreams and realise their vision. With a highly refined design process and an ability to communicate effectively, we produce award-winning homes with a style that is fast becoming recognised as WOLF. Contemporary residential design, whether it be multi-unit developments, high-rise apartment buildings or bespoke beach houses, must be 100% functional and practical whilst also sophisticated, relaxed, and beautiful. Being guided by these principles ensures we remain ranked amongst the best of Melbourne's architects and experts in the industry.
At WOLF ARCHITECTS the landscape, architecture and interiors are considered simultaneously as equal parts of the whole. Artwork, decoration, furnishings, and views of the landscape are all important components of the complete, balanced design. Our design solutions engage with the urban environment and the natural context of the land. WOLF interiors afford a luxurious sense of light and space. By offering high-end, bespoke architecture as well as landscape and interior design in an integrated service, WOLF represents exceptional value.
The 5 WOLF points of difference are:
Physical models and pencil drawings are purposefully positioned throughout our office spaces to remind us daily of old school methods. Obviously we also take full advantage of the latest technologies available to us but we remain firm on our belief that the pen is still mightier than software. Our hands are hardwired to the brain and with every pencil stroke our minds become more attuned to our designs. Experience has shown us that this makes for more sensitive architecture.
Having fully understood the brief most WOLF designed homes start with a pencil and blank sheet of paper. It sounds simple but is in fact incredibly hard to do in a day and age where there is an abundance of technology, and information at our disposal. Yet experience has demonstrated that WOLF ARCHITECTS designs are more sensitive because of their old school design methods and approaches. Thus it is with great discipline that all designs begin literally as a blank canvas.
The team members at WOLF ARCHITECTS have been carefully selected for their diverse backgrounds. We consider ourselves to be a team of artists rather than over and above being purely designers. We also embrace our multi-cultural team environment which enhances creativity and our ability to respond to international projects.
A contemporary Chinese garden greets you as you arrive and enter through the pedestrian gates. While the garden's design appears ordered and carefully crafted, it is also playful and engaging. The checkerboard paving arrangement encourages children to play and for visitors to consider their path towards the office. A boardwalk style bridge extends over a dry river bed to the outdoor decking area.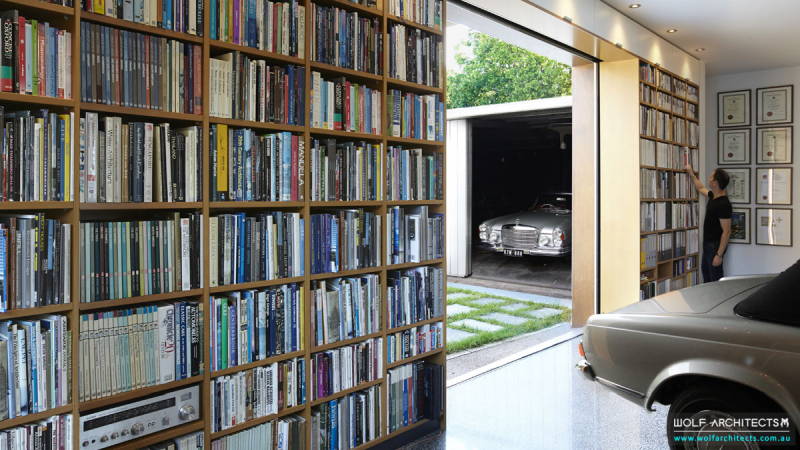 Our head office boasts an impressive library of design books and trade literature that spans over five decades. Within the archives are vast and comprehensive collections of brochures and catalogues of everything from high end electronic equipment to luxury cars and boats. These resources prove invaluable in the research and understanding of high end design. Amongst our archives is one of the most complete collections of Mercedes car books and brochures from the late 1960s to present day as well as one of the world's best vintage synthesizer brochure collections.
All WOLF Studio offices have relaxed and friendly environments that induce creativity, inspiration and productivity as a result. Our work spaces often have the same warmth and cosiness you would expect from a well-designed home. This is intentional and we believe that our comfortable studio environments are conducive to productivity and mean that working at WOLF ARCHITECTS can often feel like playing at home.
Our Team
 The Design Team
All our team members trained at recognised schools of design and have been carefully selected for their attitude and ability to grow as designers. They also undergo unique WOLF training programs to ensure that their skill levels meet the WOLF standard.
We don't live in the buildings we design… our clients do and no two clients are alike in their lifestyle, family make up, or personality. As such, the homes we design need to respond with flexibility, empathy and long term vision. Quality, responsibility and client satisfaction are our focus. – Taras Wolf
WOLF ARCHITECTS' buildings are sustainable, modern, beautiful, and finely crafted in durable materials, requiring minimal maintenance. We design things to last for generations and to be highly valued by clients and the broader community.
Our designs always make a statement and are often described upon first impression as having a significant presence. Inside are private sanctuaries for our clients to express themselves honestly. Private, open spaces with ample hidden storage allow for convenient living. Sliding walls and doors can further open up spaces for greater flexibility, multi-use, and entertaining.
Meet Taras Wolf
 "Beauty, love, truth and peace: these are my ideals. Architecture is the instrument by which I seek to achieve these, resulting in an overall feeling – joy! My work is incomplete if it does not deliver joy to its users, regardless of any awards or other recognition. My passion for residential work comes from my belief that family is the medium through which we establish our ideals in life. Just as the family can be seen to be a microcosm of society, so can the home represent a microcosm of architecture. Understanding how to design a home helps me to understand life."– Taras Wolf.
Heading the design team, Taras Wolf is a man of passion and an influential Melbourne based architect. Having graduated with 1st class honours in architecture from the University of Melbourne, Taras pursued interests including painting, sculpture, interior design, graphic design, property development, and for 15 years, he was one of Australia's top professional ballroom dancers. He lectured, coached, competed internationally and ran his own dance school. It is his wide ranging artistic interests and expertise that gives WOLF ARCHITECTS its greatest edge as a provider of high quality architecture.
Taras has worked throughout Asia and is renowned for contemporary luxury homes, many of which have won awards and been published both locally and internationally. With WOLF designed houses having sold for record breaking prices in their street, the WOLF brand continues to be highly sought after and offer significant value. He is often invited to share his critical opinion via reviews, lectures and public seminars. For almost a decade Taras has taught architecture and design theory at the University of Melbourne. As a well-known Melbourne architect, he believes it is his duty to uphold not only his reputation, but that of the industry by providing top-quality designs and innovative ideas with first class services.
Find out more about what WOLF ARCHITECTS can offer you.
Read more articles related to Taras Wolf