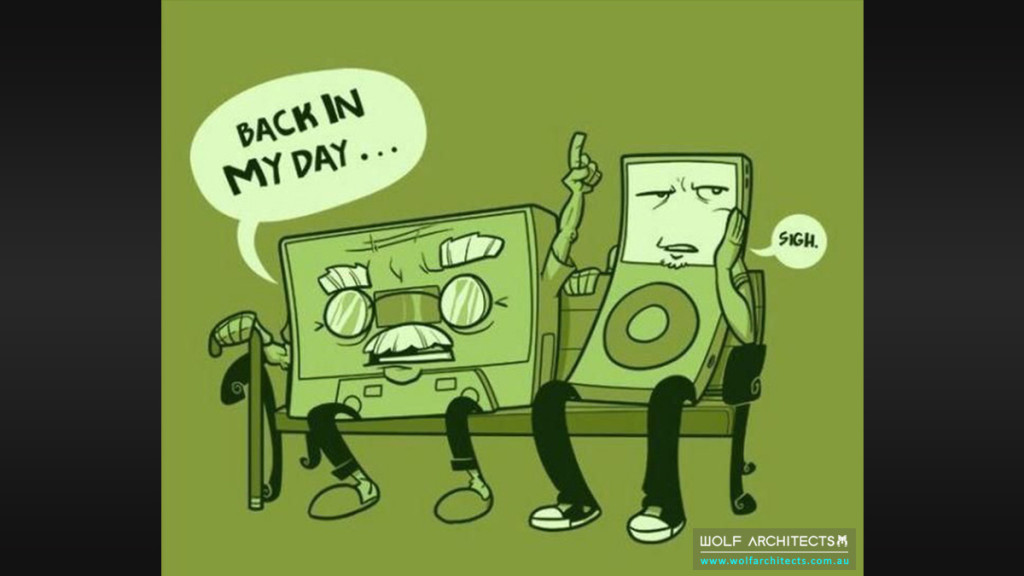 University when the 80s met the 90s was a unique time when old school ideas were being phased out in favour of newer ways. Cassette tapes gave
way to CDs, and while the internet was still in its infancy we had arrived in the age of computers. AutoCAD was a relatively new and a formal subject taught to all students. Despite this Taras recalls fond memories of drafting assignments that were supposed to be done on the computer using ink and yet the teachers never knew as the penmanship was too accurate.
Subsequently many old school techniques such as hand drawing and even lettering would lose their importance to more seductive software and computers which promised greater things delivered faster and easier.  However, computers may be easier and faster but they don't guarantee greatness.
Today there is a clear distinction between architects trained prior to the age of computers and those after it. Thus, Taras Wolf's education is unique in the sense that it was during the transitional period allowing him to absorb both worlds. The ability to draw and build models by hand is a timeless quality and skill to have. At Wolf Architects we encourage all our designers to be good with their hands as we believe that a strong connection between the hand and mind makes one more sensitive to design.
"I can draw to scale without a ruler and when I draw a wall on paper I can feel its length and shape. I don't get the same connection when typing in numbers on my computer" –Taras Wolf
Hand drawing and physical model making are timeless skills that you can use forever. Software on the other hand is always changing and in fact anyone can learn to use software, even a non-designer. Yet we cannot deny the power of computers and what they can offer us. What's important to recognise at all times is that whether it's a pencil or iphone, they are all just tools and never to be allowed to take over from design thinking.
At Wolf architects we encourage old school methods while taking full advantage of all the latest advancements in technology. In the end they are all used to aid the design process as creativity begins first in the mind, our most powerful tool.