Interior design is an integral part of our design process and is always considered from the outset. The Kitchen is often considered as the heart of the home and is central to how a WOLF home is formed. For many people a kitchen serves as a place to gather for both social and nourishing purposes. It can also serve as a vantage point, a control centre or tower from which much of the home can be surveyed.
The kitchen in our recently completed Heathmont project is not the largest or most innovative but it does encapsulate all of the WOLF design principles. Clean, generous and durable surfaces expand into an adjacent butlers' kitchen and laundry. On the opposite end is access to a walk-in pantry with wine cellar as well as an exit door to the rear services area.
As well as being an extremely practical working space, this kitchen allows the user to survey most areas of the home including the front entrance, main living area, dining area, stairs and multiple outdoor spaces.
Dekton has been used extensively in this kitchen for its robust and durable finish. The kitchen's interface with the adjacent open living and dining space is framed with Dekton. Within the frame hangs 3 unique copper pendant lights that illuminate and animate the floating bench-top.
This well considered kitchen certainly encourages the art of cooking and will clearly be a space to be enjoyed for many years.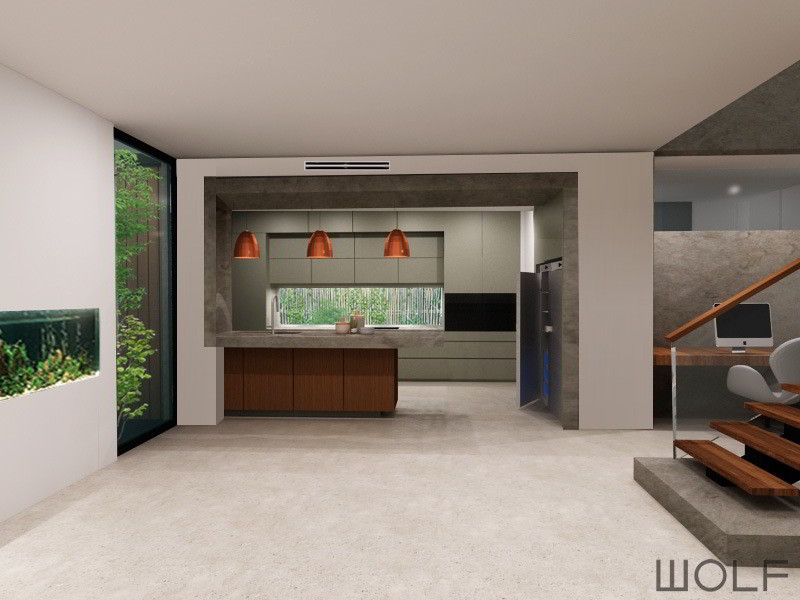 Original interior design artist impression for the Kitchen