The best Collection of Yamaha Synthesizer brochures on the planet.
Within the Wolf Collection is one of the most complete collections of Vintage digital Yamaha synthesizers. The Why and How of this is fairly complex and best understood through another article titled "What's with the synthesizers?"
This story elaborates on another aspect of the collection that involves the promotional brochures and catalogues of Yamaha Synthesizers. Before the internet these quality hard copy prints were invaluable towards sales. You went to the store, tested out the machines and took home brochures to mull over. That's was exactly what Taras Wolf started doing at the age of 14 when he took a great fascination with synthesizers. It is an exercise that he continues to perform even today when the opportunity arises.
Since the age of 14 Taras has collected keyboard related literature from all of the major brands including Yamaha, Roland, Korg and Casio. His vast collection includes not only the keyboards but accessories such as speakers, mixers, tone modules and drum machines, etc. The focus however has always been on Yamaha which he believes as a company seem passionate about design. Today the Wolf Collection boasts almost every Yamaha Synthesizer brochure from 1980 to present day. These include the legendary GX1 and DX1 synthesizers. In mint condition, they are not only rare but highly collectable.
On a recent trip to Japan Taras visited Japans flagship Yamaha Music store in Ginza. As a large multi-level building this store not only serves to promote Yamahas musical instruments but in itself is a good work of architecture and interior design. The extravagant fully sound proofed interiors feel more like a museum or library than a retail outlet. Most important to our Mr Wolf is the synthesizer department where he was able to try out the latest and greatest Yamaha Montage synthesizer.
As he had done since his early teens Mr Wolf took home with him a few brochures to further add and complete his collection. In recent years printed brochures have become harder to come by as a result of websites and other online marketing. Paper brochures are likely to become a thing of the past which will only make the older brochures even more collectable. Already the Yamaha DX synth brochures are highly sought after with mint specimens fetching record prices on ebay. Perhaps more fascinating is how something you can grab for free can grow in value. Is it time to invest in vintage brochures?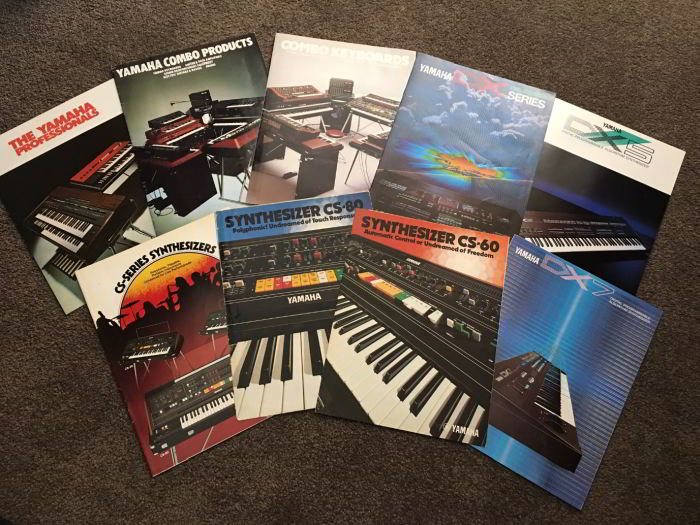 Several rare and valuable Yamaha brochures.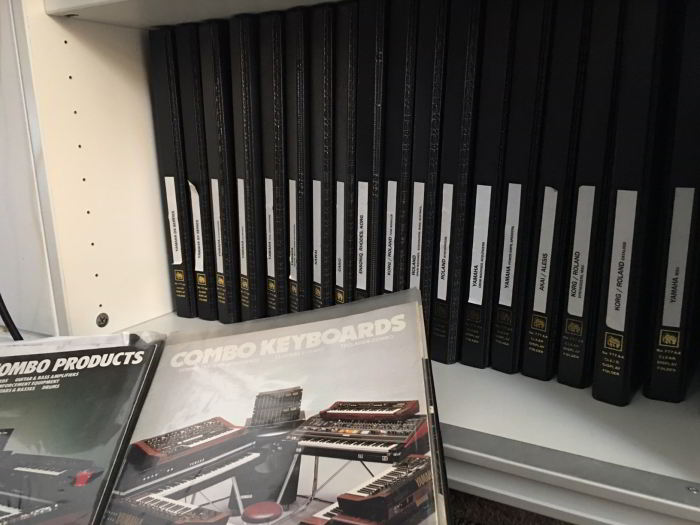 All Brochures are carefully inventoried and preserved in plastic folders.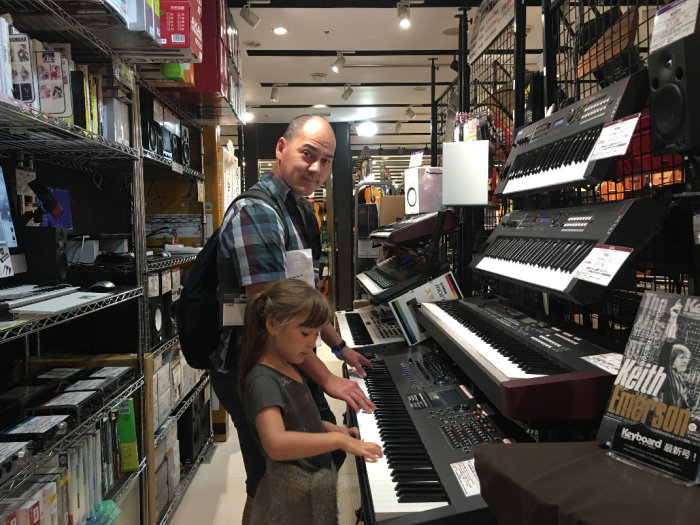 Testing out the latest synthesizers.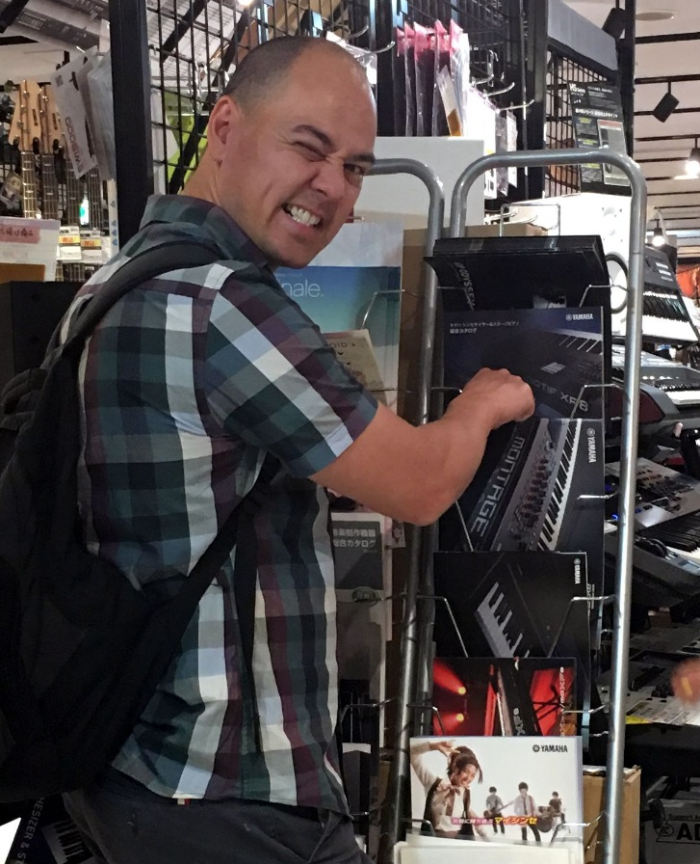 Just have to take a few….it's tradition!.