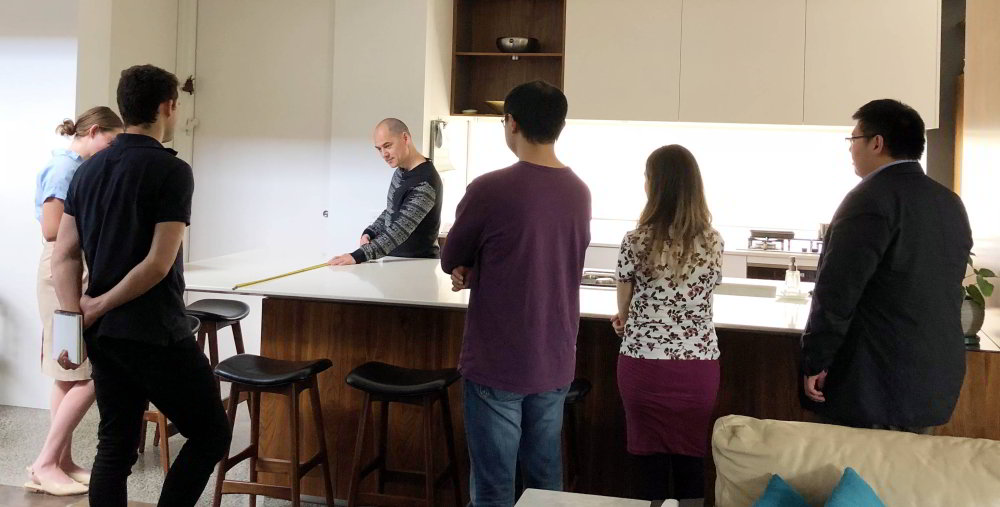 Happiness and food.
For many Australian households the most important room in their home is the kitchen. It is an ever revolving turnstile of nourishment that generates meals and moments of joy. Most of us have happy memories from our childhood based around the tasty delights produced in the kitchen.
When we arrive home after a long day the first stop will often be in the kitchen, to drop off a lunch box, grab a drink or put the mail on the counter. It needs to be functional as well as the most durable room in the home. You need to be able to generate and wash up after 3 meals everyday, and cope with broken plates, spilt wine and everything in between. The demands on your kitchen are never ending and high. This is what inspires the WOLF team to generate exceptional personalised kitchens for our clients.
When the WOLF team starts designing a kitchen it goes well beyond placement of the cook top, sink and refrigerator in the classic triangle. We consider the depth of a counter top's overhang so your knees aren't hitting the cupboards underneath. The width of the counter needs to fit the stove top and take into consideration the size of the pots and their handles so that there is no risk of them tipping. The colours used are inspired by our clients, and the light that might enter the room be it the dawn rays or late afternoon sun.
At WOLF we enter into a discussion with our clients about the finer details of a family's needs. How many people will be making sandwiches in the morning? Are there children that might want safe access to cutlery? Are there appliances that need to be hidden? Will the beloved coffee machine take centre place? The bespoke nature of our work correlates directly to the personal character of the home's future inhabitants.
Led by Mr Wolf, our team are constantly learning what are the trends of today and what will be replacing them in the future. He instils in them that it's the basic bones that make well crafted spaces, which ultimately enhance our clients homes and their lives. The team are quizzed on basic measurements, they consider that spaces shouldn't feel too large or too cramped and they have the opportunity to experience a working kitchen to help inspire their designs.
To see some innovative ideas, visit the knowledge section of our WOLF Design resource website and see the future kitchen section.
https://wolfarchitects.design/knowledge/